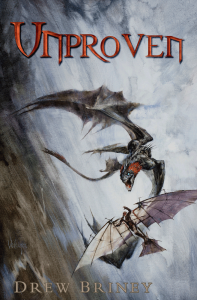 Hey! After two years of hard work, Unproven is finally ready for launch and will be hitting Amazon and B&N on Tuesday, March 6.  Occasionally, online stores are a smidgeon slow loading new books so if Unproven isn't live for whatever reason, sign up for my newsletter and I'll send you two free short stories to keep you busy until you try again on Wednesday. Unproven will be available in paperback, epub, and mobi.
I couldn't be happier with the final product.  Eric Velhagen did a fabulous job on the illustrations (cover and chapter headings), Diann T. Read meticulously edited the final manuscript and pushed me to a new level of prose, Best Selling Author, David Farland, coached me through a deeper level of subplotting, and he's also helping me market the book in a very non-traditional way (which is his trademark for success as demonstrated by Harry Potter and Twilight).  Unproven is, by far, my best work, so I'm thrilled to hear what you have to say about it (book reviews, even super short ones, make us best pals).
True to my marketing, Unproven is character driven, thriller paced, encased in gripping prose, and full of plot twists while tackling challenging moral conundrums. It's high fantasy with a twist, gun powder versus magic, and features a meek, powerless mage as protagonist. If you haven't been following my updates, you can read more about Unproven here.
By the way, you can now follow my progress writing new books by checking out the sidebar to the left (below the menu on some mobile devices). The handy new gadget (with the blue progress bar) will tell you what part of the book I'm working on (world building, outlining, writing, or editing) and allows me to keep you updated without sending out too many newsletters.  As always, you can read my drafts as I write them on Wattpad (including, already, the first few chapters of my next book).  Unlike previous books, my draft of Unproven will not stay on Wattpad – I'll only leave a few chapters as a teaser there.