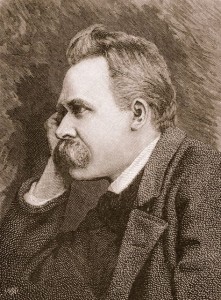 Although he is one of my least favorite philosophers and although he has been credited with greatly influencing Hitler's philosophies that led to the second world war, I have to admit that some of Nietzsche's teachings are humorous and thought provoking.  For instance:
The advantage of a bad memory is that one enjoys several times the same good things for the first time.
Friedrich Nietzsche
I've thought about this a number of times.  On its face, the quote is quite humorous.  On second thought however, I can't help but to see some deep truth here.  On a fairly regular basis, I interact with a number of individuals who have … let's be honest … pretty poor memories.  I know one person in particular who tells the same jokes over and over again.  Thirty years later, I keep hearing the same jokes from this person … and the person laughs every time.  I stopped laughing about twenty years ago but I still smile to keep everyone happy.  Nietsche is credited with being pretty smart.  Take a look at him.  Ignore the huge mustache for a second.  Does he look happy to you?  Do a google search for his picture.  Do you see any pictures where he looks happy?  Do his thoughts seem to make him happy?  The answer appears to be no.  Now, I'm sure he wasn't dismal his entire life but generally speaking, he doesn't seem to be a happy individual to me.
On the other hand, I have known a number of people with Down's Syndrome.  I won't be politically incorrect in making any observations about their specific IQ's but I will say that they don't seem to have quite the same intellectual prowess as this post's resident philosopher.  Hands down, any individual that I have ever met with Down's Syndrome seems to be much happier on a regular basis than I can ever imagine Nietsche being.  Sure, they have bouts of depression and their own challenges – I'm only speaking generally.  As a lawyer, I have plenty of associates who are quite bright.  As a religious man, I have plenty of friends who are not as bright as my legal associates.  When I put them in the balance and ask myself who appears to live happier lives, the lawyers lose out quite quickly (indeed, as a group of people, they have a significantly high suicide rate and high rates of substance addiction).  In fact, were it not for my friend Sid Unrau, I'd have a difficult time naming an attorney that I know who almost always seems to be happy.
This makes me wonder: why are so many people stuck on the idea that they would like to be more intelligent?  Some people believe that "smart" people make more money.  To some degree, there may be truth here but anyone interested in business statistics knows that intelligence is a poor indicator of a person's likelihood of financial success – charisma and charm are more likely to land you a high paying salary.  So why hope for greater intelligence?  Maybe we should just be looking for more happiness in our lives.  Or maybe, we should follow Nietsche's advice and wish for a bad memory so that we could find that "first time pleasure" in things that we've experienced many times before.
I wrote a short story about these ideas. You can read it here: The Glory of Intelligence.