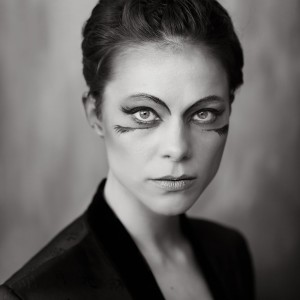 Singing harmony by yourself is admittedly an exotic talent but Anna Maria Hefele can make it both exotic and … beautiful.  Tuvan throat singing has been an Inuit (Mongolian) tradition for … who knows how long (not even Wikipedia knows).  Even with three different styles of polyphonic harmonization, Tuvan throat singing has traditionally yielded little more than some eery tones fit only for this time of year.  I first ran across self harmonization over a dozen years ago when studying at BYU as a music major.  I'm not embarrassed to tell you that there is a reason only one group of people on the planet sing like this – it's tough!  And, after lots of practice, it still sounds … well, creepy.  That's cool if you're looking for scary background music but if you try to make it sound beautiful – well, that's a different world entirely – a world monopolized by Anna Maria Hefele.  I'm sure she can make creepy sounds too – that's just part of the territory – but this woman can also trick you into thinking that maybe you could compose some very beautiful and unique songs featuring this technique.  Don't believe me?  Check her out!
If the video gets too long for you, check out her singing at about 3 minutes or 3 minutes and 40 seconds into the video – shocking!
Oh – in case you're wondering whether or not this could be good sci-fi fodder – don't doubt yourself for long.  It has been featured in a few movies and will undoubtedly find its way elsewhere before long.  Oh – did I mention that I already used the idea behind the technique in Moon 514?