This post was originally posted a couple/few weeks ago – but my server decided to make my life miserable and to delete it and some other updates.  If you already saw this post on goodreads, there is nothing new here.  Otherwise, read on!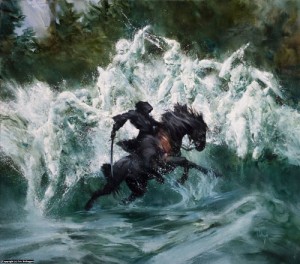 When I saw a few pieces of Eric Velhagen's artwork at FantasyCon 2014, I was immediately hooked.  I first saw his migration of dragons painting that was tragically unavailable for sale.  Then, I saw the above image and thought – I'm gonna have to  buy a print of that (he sold out).  I quickly made my way around the artist alley to find him in an undersized booth that was over crowded nearly every time I walked by.  When I finally pushed through the crowd drooling over his plethora of cool dragons, I saw the below image and thought – I need to find out how much he'll charge to do my next book cover!
Bad news was: Eric is booked until November.  Good news is: I won't have my next book finished before November anyway!  He was friendly and easy to negotiate with and I tentatively hired him – only "tentatively" because I can't really order a cover until the book is done but he certainly gained my attention and there is no way I won't approach him a few months before I'm finished with the book.  In the meantime, I may be able to hire him to do a sketch for a short story I have ready for publication.  The dragon scene above is from the Silmarillion (Glaurung v. Nienor) – a work by Tolkien that received a shout out at nearly every other class I attended.  If the dragon strikes you as a little untraditional – I'll have to agree – but that is precisely why I liked it so much.  My heart sank when I learned that it wasn't available in large sizes (except for the original that would crush my already broken budget – though it was reasonably priced to be sure).  I'll be blogging more about my experiences at FantasyCon later this week but until then, I wanted to offer a shout out to FantasyCon Master Work Artist: All Hail Eric Velhagen!